Get A Sun-Kissed Look Without the Sun's Rays
Our sunless tanning solutions help you achieve beautiful, customizable color, from gentle glow to bold bronze.

Natural, streak-free coverage
Anti-aging moisturizers provide nourishment to your skin
Eco-certified, paraben-free, gluten-free, cruelty-free
Non-comedogenic formulas
Tanning machines allow for total privacy
All Access Tanning Monthly Package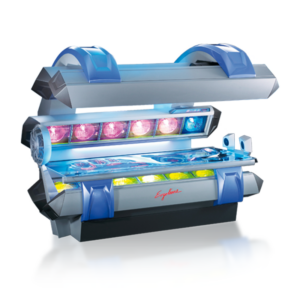 Package includes unlimited access to all sunbeds and sunless for only $89.99 a month.
Initial payment includes first month of tanning and $20 one-time activation fee.
Sunless Spray Tanning Monthly Package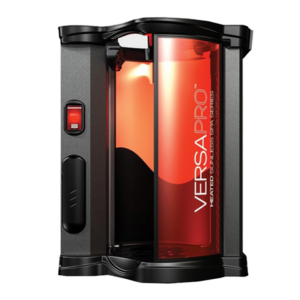 One any level sunless tan per day for only $59.99 a month.
Initial payment includes first month of tanning and $20 one-time activation fee.
How should i prepare for my sunless tan?
We recommend that you shower and shave one day before your tanning session. Exfoliating is important because it helps your tan last longer. Avoid scented lotions, oils, and other skin treatments that could make your new tan uneven.
---
What can I wear during my spray?
You can wear as little or as much as you're comfortable with—just keep unwanted tan lines in mind. Remember to remove jewelry!
---
Can I wear makeup during my session?
We recommend coming in bare-faced for the best results.
Will my tan look natural?
Yes! We will customize a solution that will work for your specific skin type, undertone, hair color, eye color, and the shade of tan you desire. You won't end up with orange tones or streaks.
---
How long will my tan last?
Your tan's longevity depends on several factors, including your skin type, lifestyle, and care.
A spray tan will last between 5-7 days due to the skin's natural exfoliating cycle but has the potential to last longer.
---
How can I make the most of my sunless tan?
Great question! Here are our aftercare tips:
Wear dark, loose-fitted clothing after your sunless tanning appointment.
Avoid touching your skin to prevent color transfer to your palms.
Avoid swimming or sweating until your initial rinse. Rinse with lukewarm water, and then pat yourself dry.
Apply fragrance-free moisturizer morning and night after the complete development of your tan.
Use water-based products only. Avoid scented lotions, astringents, skincare products with acids and peroxide.
Avoid swimming in chlorinated pools, long hot showers or baths, saunas, excessive sweating, and minimize shaving to best preserve your tan.
Don't exfoliate until your tan is at the end of its life. Resume your usual skincare regimen when your tan begins to fade.
Will my dark skin affect my Sunless Tan?
Dry skin can cause a sunless tan to fade unevenly. If you have dry skin, we recommend moisturizing twice per day for a week leading up to your session.
---
Can I get a sunless tan if I have a sunburn?
For best results, we recommend you wait until your burn has healed. Remember to wear sunscreen next time!
---
Is sunless tanning safe for pregnant and breastfeeding women?
We request that pregnant or breastfeeding clients ask their doctor for approval before they come in for their session.